Last week, Bitcoin's crypto currency, as a result of rapid growth, overcame the psychologically important cost boundary of $ 10,000, and then just a day later reached $ 11,000 and above. But then there was a correction to the level of $ 9295.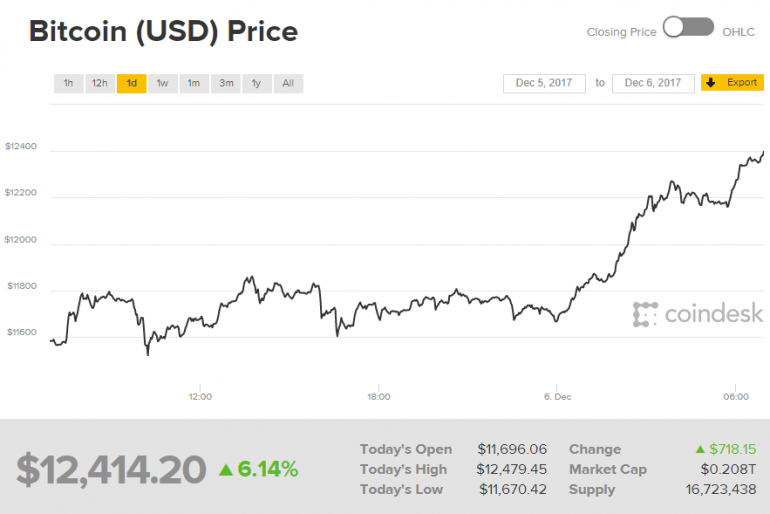 The following week the Bitcoin rate fluctuated in the range from $ 9,5 thousand to $ 11,5 thousand. But tonight again the growth resumed and the value of the crypto currency took another $ 12 thousand line, reaching a maximum of $ 12479.45 (according to the data Coindesk ). At the time of preparation of this post, the cost of Bitcoin is $ 12,414.20. The price increase for the day was more than 6%, and the capitalization of the crypto currency exceeded $ 210 billion.

It should also be noted that on some exchanges, in South Korea (which first crossed the line of $ 10 thousand for one bitcoin), trades are already at the level of $ 14 thousand (according to the data from CoinMarketCap ). But these markets are traded in Wongs (the national currency of South Korea), so there may be some discrepancies in the estimation of the Bitcoin price in dollars due to additional currency conversion.
At the end of last month – November 28 , the cost of bitcoin overcame the boundary of $ 10,000. Two days earlier, on November 26, the Bitcoin crypto currency exchange rate exceeded the mark in $ 9000, while the $ 8000 milestone was overcome 17 November , and $ 7000 – November 2 . Two weeks before that – on October 20 – was the line is taken in $ 6000, and a little earlier – on October 12 – $ 5000 . This was preceded by the capture of two more records in August: $ 3000 , and then $ 4,000 .